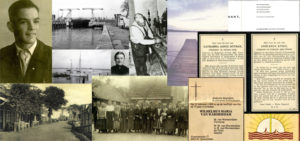 De Beeldbank en Familiedrukwerk bevatten foto's en afbeeldingen die wij, in de loop der jaren, verzameld hebben of die wij van (oud) Spaarndammers gekregen hebben of mochten scannen. Niet alleen van het dorp maar ook van de (vroegere) bewoners. We hebben zo veel mogelijk geprobeerd alles en iedereen te benoemen, maar als u fouten tegenkomt of aanvullingen heeft, laat het ons dan weten.
De HWS heeft zijn uiterste best gedaan de rechten op het beeldmateriaal te achterhalen. Desondanks kan het in bijzondere gevallen voorkomen dat u meent dat er inbreuk op uw rechten of die van anderen wordt gemaakt. Wij verzoeken u vriendelijk dan contact op te nemen met de HWS.
Wanneer je een afbeelding zoekt in een specifieke categorie dan kun je de categorie aan de linker-zijkant vinden.
Als je een afbeelding op datum en tijd wilt zoeken kun je hieronder de juiste periode kiezen: